24-07-2013, 03:37 AM (This post was last modified: 24-07-2013, 05:00 AM by rohanseth8.)
MAJOR SPOILERS IN THIS REVIEW! YOU HAVE BEEN WARNED!
Developer
: Rockstar Vancouver
Publisher
: Rockstar Games
Platform
: PlayStation 3, Xbox 360, Microsoft Windows
Release date
:Â  May 15, 2012
Genre
: Third-person shooter
Mode
: Single-player, Multi-player
The first and most important thing you need to know about Max Payne 3 is this:Â  It's not a happy game. In the first Max Payne, you assumed the role of a deep undercover DEA agent tasked with breaking a massive drug ring. On the night of the worst snowstorm in New York's history, Payne finally breaks the case and avenges the murder of his wife and daughter three years earlier. Max Payne 2 was more morally ambiguous, but there was still a sense of being one of the good guys. In Max Payne 3, you play a bitter, middle-aged drunk...
http://www.youtube.com/watch?v=QPc9LhKA5C4&list=PL768C1E406CDC8E22
Max is back!! That's the first reaction I had when Max Payne 3 was announced by Rockstar in 2009. The original release date set for this peace of art was in Winter 2009 but it got a little delayed (3 years). When the first trailer was released by R*, the hype meter was high (atleast for me) because this was something people had been waiting for quite a while. So, lets cut to the chase now.
The game is a masterpiece in itself, no kidding. The way the story unfolds is absolutely brilliant and something that is expected from R*. Max remains unnaturally eagle-eyed and spry enough in combat, but there's nothing like vomiting into the sink after a night of binge drinking to kill your sense of accomplishment. The game takes you through a series of environment to test your skills. You go from a jungle, to a shipyard and all the way to the graveyard (yes, the freaking graveyard too). The slo-mo shooting that is famous among the Max Payne games is even more polished this time. Something new to the table is the  "Last Stand" mechanic, which gives the player a grace period after losing all health during which time the player may kill the enemy that wounded them in order to continue playing, however this mechanic is only usable if the player has one or more bottles of painkillers in their possession.
R* has done a tremendous job with the characters on this game. Max works with Passos (rarely to be seen) for the protection of a wealthy family in Sao Paulo, Brazil consisting of three brothers: Rodrigo, a real-estate mogul, Victor, a local politician, and the hard-partying socialite Marcelo. These characters will make you believe that they are THE cockiest people you have ever seen. These "smartass" people get themselves caught several times by local street gangs and then by some para-militaries. The game revolves around Max's attempt to save these people.  You will come across some characters that you will really hate, but hey, that's what R* really wants you to do. These characters are flawed, which makes them all the more interesting.
Who would have known that they would possibly achieve such amazing graphics on the current gen consoles? The game looked so beautiful and vast. The environment, the bullet trails during Bullet Time, the character details, everything looked top notch. The part where Max is in Nova Esperanca looks absolutely stunning. The environment is heavily detailed and is destructible in a spectacular fashion. There is no doubt that R* nailed this department.
Max Payne 3 may be grittier than its predecessors and its storyline may be more mature, but the series' signature bullet-time mechanic remains present and correct. Players fill a bullet-time meter by shooting opponents and avoiding gunfire. When they click in the right stick, the action on screen slows to a crawl, sound effects become muffled and they're given a small window of slowed-down time to pick out their targets carefully. Don't get the impression, though, that bullet-time makes Max Payne 3 a cakewalk. Even on Medium setting this is a game that'll test shooter fans to their limits.
A minor downfall in this department would be the fact that it's a bit linear. You have to move in a particular way to reach the destination. There is no other way! But the amazing gunplay makes up for this fault and by the "amazing gunplay" I obviously mean the Bullet Time and the Last Man Standing mechanism. There is not a single scene where you might feel bored because the way the suspense is carried to the next act is really good. Still, the most annoying scene IMO would be the last scene where I had to shoot down Becker (the guy with a grenade launcher) because of the destructible cover and the 1000s of enemies jumping in from random places. Still, after his death, there was a sense of satisfaction and the awesome feeling of finally beating up an a***ole. Throughout the game, there are epic one liners and cheesy jokes which make Max even more awesome.
WARNING: A little GORY.
http://www.youtube.com/watch?v=wh55uM9UVxQ
The multiplayer doesn't skimp an inch on what shooter fans expect from triple A title in this genre. There's a whole raft of maps, match types, customisation options, in-match challenges and unlockables to keep gamers glued to their consoles long into the night. It's also a step away from your usual online fragfest. Just as it does in the single-player, Max Payne 3 offers bullet-time as a tactical mechanic in its online mode. Players are able to slow-down time on each other and draw a bead on foes, provided they have the requisite meter filled – after scoring headshots and kills.
It's a testament to the skill of Rockstar's development team that they're able to plug this cool feature into their multiplayer without making the whole affair feel clunky or forced.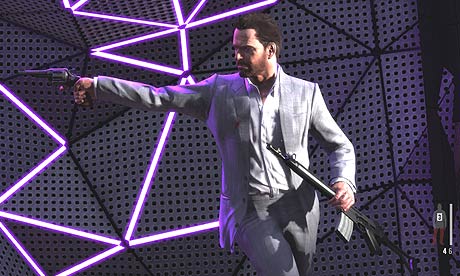 There are several games that are loved for their innovative gameplay and amazing graphics, but Max Payne 3 is so much more than that. This game is not just about innovation or graphics, it's about a story, a story well told of a man who has given up on his life and is not afraid to die. This game is a great example or exceptional story-telling and innovative gameplay. This might sound incredibly cliched but this is a game that you MUST play before you die. R* has done justice to the Max Payne series and Max couldn't have gone out with a bigger bang.
The Good
:
Amazing gunplay
Compelling story
Great writing and voice-over
Detailed destructible environment
Impactful sound design
Fun and chaotic multiplayer
The Bad
:
Lack of freedom
I'd give this game a
9.5/10
.
NOTE: This is my first review (ever) and I apologize in advance if it sucks major balls.  O